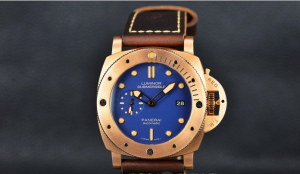 In recent years, bronze watch has become a major trend of men's senior watch. For a long history of Italy's senior watch brand Panerai, the heavy historical background has become a retro in the manufacture of a strong cornerstone. In 2012, Panerai first launched bronze watch 382, ​​by virtue of its unique brand series modeling coupled with the rich flavor of the era of bronze case design, and soon by the table friends of the hot pursuit, became the extraordinary The Brand second bronze watch, it is in the 2013 exhibition on the 507, with long-lasting charm and distinctive sailing style of high-profile. Until after a lapse of four years of 2017 SIHH, Panerai to bring you the brand in the third bronze watch, the first general windy blue plate dialed into a new, full of charm with bronze phase contrast, So that the freshness of the new wind to be natural, and retro feelings of integration, showing a unique new style of retro connotation. Here, we take a look at: (watch model: PAM00671)
Bronze, made of copper and pure tin alloy. Can maximize the resistance to seawater and environmental conditions generated by the corrosion. Although the soft primary colors will pass over time, the bronze material reacts with the external factor to form green rust on the surface, covering the shell surface. However, these green rust will not change the material properties, and will make the watch even more unique, distributed ancient charm.
Brand third generation bronze table style
The new watch continues the previous two generations of 47 mm bronze pillow case design, after careful handling of the brand after showing a great sensory enjoyment, it is unable to stop. Attached to the degree of counter-clockwise one-way rotating bezel side lines clear, easy to operate. Retains the brand series Another large recognition design crown bridge, in the show the uniqueness of the watch at the same time also effectively avoid the water or vibration on the watch and crown damage, very reliable.
Simple and reasonable blue dial, the brand name of the rod and the dotted time and the central hollow hour and minute and 9 seconds at the small seconds against each other, showing the unique charm of Panerai diving table. Are covered with beige luminescent display coating, and bronze case complement each other, distributed honest and retro navigation style. The 3-hour setting has a date display window to provide easier time information.
Pointers and time scales are covered with luminous parts, even in the dark environment can also observe the time, very convenient. At night, the watch will be issued Yingying light, very beautiful.
Through the back cover design of the back cover can see the movement of the appearance. Equipped with Panerai P.9010 movement, completely developed by the brand, to support a number of practical functions. Provide 3 days power reserve, waterproof rating of 300 meters.
Panerai LUMINOR 1950 series of 3 days to move the bronze automatic watch
Summary: Horizontal the Panerai LUMINOR 1950 series of 3 years to move bronze automatic watch, like a story and full of qualified naval soldiers, with a strong army of awe-inspiring wind. Brand for the first time the blue dial and bronze case integration, coupled with the extraordinary excellence of the core P.9010 and full of calfskin dark brown strap, as this year's watch on the watch one of the high-profile The Which watch the world's limited edition of 1000, like the table friends to seize the opportunity!